Why is it so important to apply for admission within the first round?
Everything is quite simple and logical. All places in universities and colleges are vacant during this period. If you want to "reserve" a place on the selected program and maximize your chances for admission, it would be better to do so during the first round.
During the second round, you will have to choose one of those programs that would retain vacant places after the first round. Moreover, within the following third round (if any), you will have to get by with the remaining options that may not fit your desires.
Why is applying for the first round the easiest way?
At the stage of submitting documents during the first round, you are required only to file your application and the available documents. You can send missing documents (originals of certificate/diploma, results of final exams) in June and July.
The main aim of those who apply for admission within the first round is to increase the likelihood of enrolment to the selected program.
When is it better to submit documents to Slovenian universities and colleges?
Filing with Slovenian universities and colleges has already started. The majority of private institutions operate on a separate schedule, so we report on the timing of document submission thereto on individual basis.
Terms of Submission to Universities of Slovenia in 2017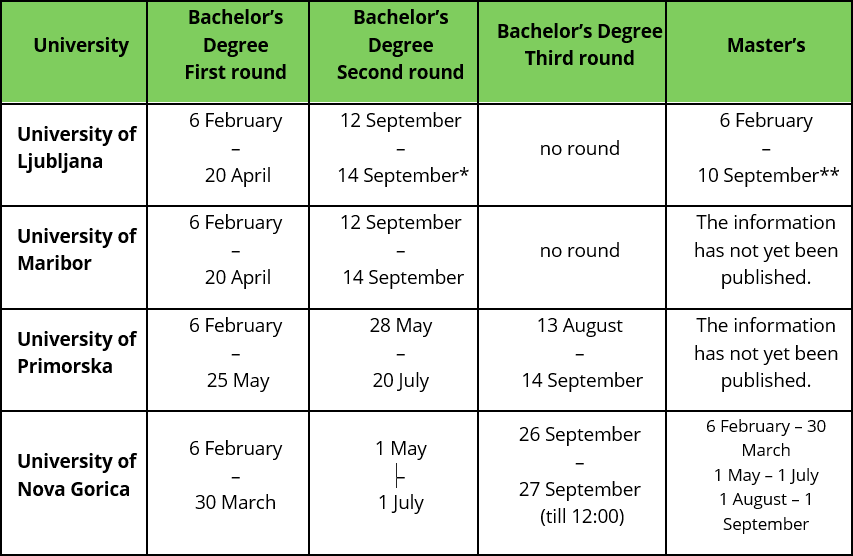 University
Bachelor's Degree

First round

Bachelor's Degree

Second round

Master's
University of Ljubljana
6 February–20 April
The information has not yet been published.
March 13 – September 30.
Depending on the faculties, the timing may differ, please consult the consultants.
University of Maribor
6 February–20 April
The information has not yet been published..
13 March – 31 May
and
05 July – 15 September
University of Primorska
6 February–14 July
1 August–15 August

18 September–22 September

09 May – 15 September
University of Nova Gorica
6 February–5 July
22 August–29 August

1 September–20 September

1 May–20 September
Terms of Submission to Colleges of Slovenia in 2017

| | |
| --- | --- |
| First round | 13 February–8 March |
| Second round (for remaining places) | 28 August–1 September |