2TM Booth at the Education and Career Fair Was the Most Prominent
The exhibition was held in Moscow from 20 to 22 October in the Gostiny Dvor exhibition centre. The event is held twice a year.
The 46th Education and Career Fair was conventionally divided into two zones: Russian and International. 2TM was the only company representing education in Slovenia. In addition, there were companies representing Poland, Germany, Spain, the Czech Republic, the USA, China and other countries.
The 2ТМ booth was in the International Education zone. The design of the booth, specially developed for the fair, and its rather large area of ​​18 square metres attracted the attention of both passing-by visitors and those who specially came to the event to learn about the education in Slovenia and other European countries.
On Saturday, 21 October, the 2TM presentation "Study in Slovenia" was held on the interactive platform.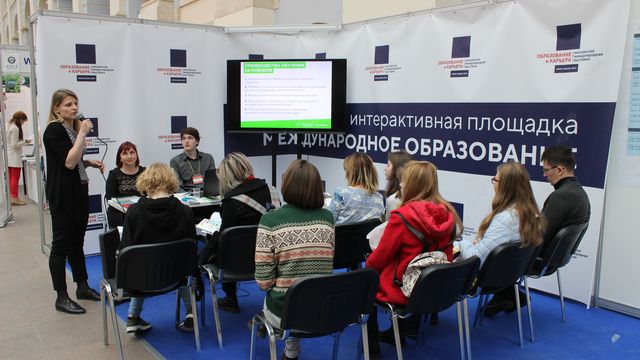 In sum, it can be safely stated that education in Slovenia is in demand among Russian schoolchildren. After the Education and Career Fair, the 2TM employees received more than 150 applications for training.
In October, the 2TM Company also attended such industry-specific events as the Career Guidance Day in Moscow and the Education Horizons City Fair in St. Petersburg. Two workshops were held in Kharkiv and Dnipro (Ukraine). In total, 2TM received 250 applications, the majority of which were related to the programmes in humanities.
The target audience of the Education and Career Fair is young people aged 14 to 28 years. Annually, 150–200 organisations take part in the Fair. Among them, there are Russian and foreign universities, colleges, education agencies, adult education centres, and employing companies.