2TM Employees Teach Schoolchildren Slovenian Language at the Exhibition in Kharkiv
The largest international industry-specific exhibition Education of Slobozhanshchina and Studying Abroad is finished in Kharkiv. 2TM made a presentation "Study in Slovenia" as part of the event. The employees of the Company provided students and their parents with the basic knowledge about Slovenia, told about popular study programmes and advantages of education in this European country.
Guests of the presentation were introduced to the Slovenian language through simple words from everyday speech shown on slides.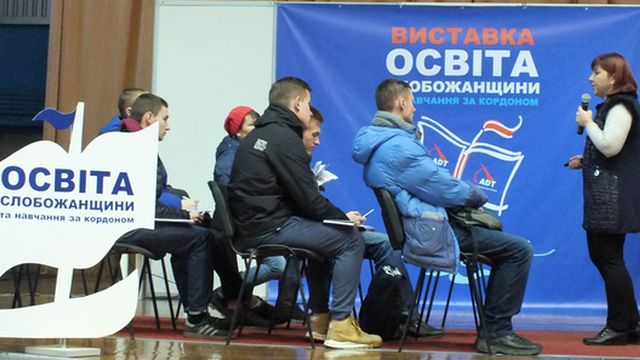 The main category of exhibition visitors were senior schoolchildren. The majority came to this industry-specific event with their parents. The 2TM booth contained informational literature, which was in high demand. Those who were interested in the perspectives of receiving education in the Eurozone also asked topical questions, such as how to learn Slovenian, the cost of education and residence, employment prospects, etc.
Guests of the exhibition were interested in the following study programmes: IT, Economics, Linguistics, Architecture, Logistics, Engineering, and Medicine. There were several requests for Acting, Biochemistry, and Photography. Besides, 2TM employees offered a career guidance test for those who have not yet decided on the study programme.