Since its foundation in 1990, the GEA College has been a synonym for business education in Slovenia with an emphasis on entrepreneurship and management. Initially, it was focused only on entrepreneurs, but later other study programmes were opened as well.
Our journalist had a conversation with, Master Katja Kraškovic, the Head of the Faculty of Entrepreneurship at GEA College. Read the interview below.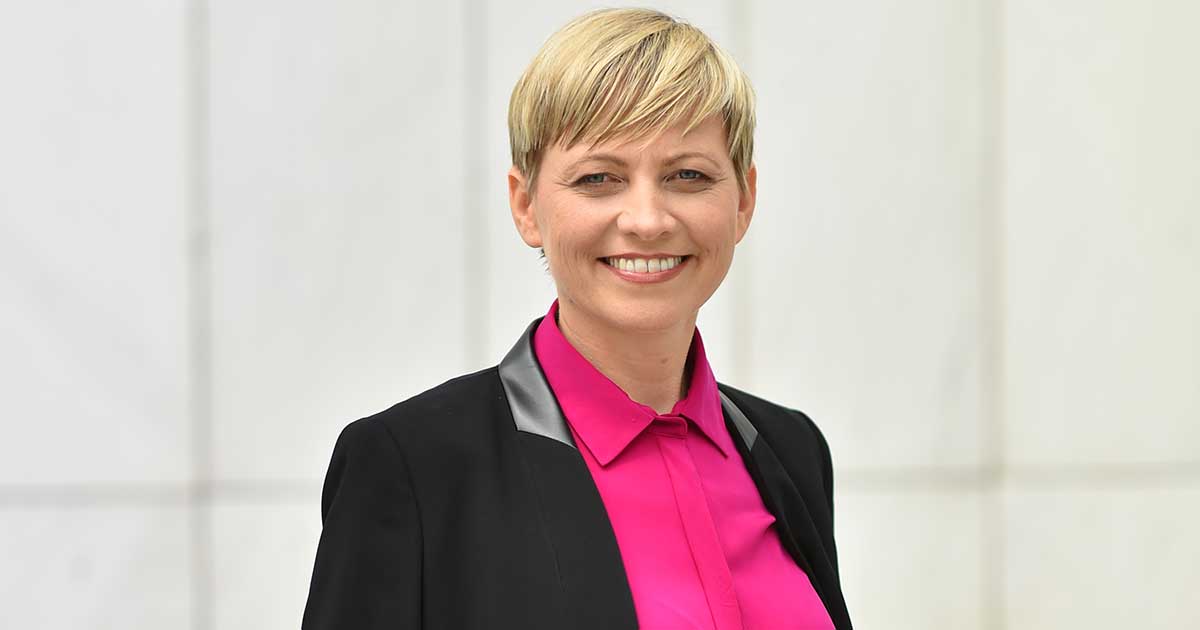 Photo: Master Katja Kraškovic, the Head of the Faculty of Entrepreneurship at GEA College
– Katja, tell us please the story of GEA College foundation and launching of the Faculty of Entrepreneurship six years later.
– The GEA College was founded on the initiative of entrepreneours and private individuals, who realised that there were no modern practically oriented training courses for businessmen or those, who wanted to become such within the Slovenian and wider regional context. Therefore, the assistance in the implementation and consolidation of the key skills and competencies in entrepreneurs and businessmen remains the main mission and key focus of our activities until today.
Initially, GEA College worked as an educational centre for entrepreneurs, offering various business training, workshops, seminars and academic events. However, it soon became apparent that younger generations had to be trained in business thinking and business activities. Following this logic, we were the first in the region to offer a high-quality study programme in Entrepreneurship. Today, GEA College is no longer just an educational centre for entrepreneurs or a simple faculty. We provide a holistic enabling environment for anyone who wants to master entrepreneurial, business, managerial, and marketing skills. In addition to various Bachelor's and Master's degree programmes and training courses for company representatives, there is also a Career Centre, a Business Incubator, an Alumni Club, etc. We are proud that since its independence, the GEA College has contributed to the formation of a better entrepreneurial ecosystems in Slovenia through its activities and efforts.
– What study programmes are you especially proud of?
– Our most famous, most popular and most experienced project is the Bachelor's degree study programme in Entrepreneurship. We believe that the majority of people know about our faculty precisely due to this programme. Of course, we should not lose sight of the development of new programmes, which we are also proud of. We believe that we need to develop programmes in accordance with the needs of the market, trends and professions of the future. Therefore, we are very active in this sphere and involve representatives of the economy sector and entrepreneurs in creating new study programmes. Thus, as part of the curriculum, we have launched such study programmes as Digital Marketing, Risk Management and Corporate Security. Digital Marketing mainly teaches special skills in content creation and development, social media management, email marketing, online advertising and other basic skills needed in this rapidly growing industry. The Master's degree programme in Risk Management and Corporate Security focuses on various aspects of corporate security such as geostrategic and political issues, security standards in business processes, planning and development of corporate security, control processes, and many others. In a word, this is the way we address the urgent problems of modern companies that face an increasing number of diverse challenges.
– What is the employment rate of GEA College graduates?
– This indicator is of exceptional importance for us. We share responsibility for the employment of our graduates. Therefore, every two years, we record the market data. We have the right to say and be proud that year after year, 90% of our graduates are successfully employed. Last year, this indicator reached 97%. And this is not the only our merit. Since our mission is also to disseminate entrepreneurial thinking, we are very pleased that 30% of our graduates establish their own enterprises, and 45% of our former students hold leadership positions in companies. This is facilitated by the fact that some of our students are associated with the family business or started their business career during the training period.
– What are the advantages of GEA College? What is your strong point?
– First of all, we are a modern boutique business school that teaches entrepreneurship, management and marketing. In addition to internationally accredited study programmes for students and undergraduates, we also conduct business training, workshops and seminars for companies and their employees. In the educational process, we strive to promote the development of entrepreneurial thinking and competencies of the 21st century.
In training, we focus on the practical value of business skills, which is achieved thanks to the presence of teachers with rich practical experience, that is skills that are required on the market and can be immediately applied. We are committed to an individual approach and try to devote time to each student, thus forming a special interpersonal relationship. We are proud of our flexibility in being able to offer students various forms of study. For example, students with families, working students, or students engaged in a different fields can choose between classical, combined and distance learning, as well as online learning.
With our students, we are building long-term relationships that we maintain after their graduation. To this end, we offer an entrepreneurship support environment consisting of the Business Incubator, the Career Centre and the Department of International Cooperation. This greatly simplifies the initial stages of students' careers and provides further assistance in their entrepreneurial path. Our graduates are also involved in the Alumni Club, which offers opportunities for communication at all levels.
– What are the ambitions and development goals of the GEA College?
– We want to become the leading business school in the region with a high level of teaching and practical orientation. We want to develop new programmes for the professions of the future and help students gain practical skills that lead them to success on the right track. Our goal is to enter the international level. Other important goals include opening an MBA programme on the basis of a foreign license and implementing double degree programmes with educational institutions around the world.
Interviewed by Špela Zupan Štampohar