Artur Vladimirovich Stepanov is a linguist teacher, associate professor and senior researcher at the University of Nova Gorica. We talked with him about his teaching experience and scientific interests, about university life and students, impressions about the country and adaptation experience. Artur is convinced that Slovenia, as a place to live and work, is greatly underestimated, and the University of Nova Gorica is a quality competitor to the world's leading universities.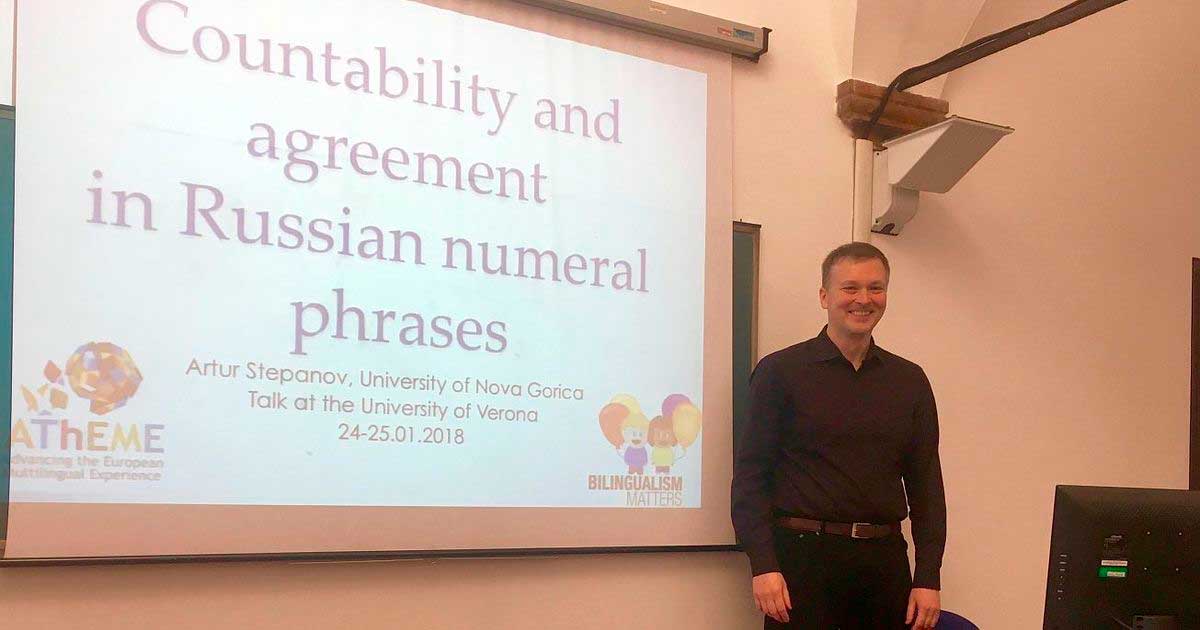 Photo: © Artur Stepanov
– Please tell us about yourself: where are you from, where did you study? What was your teaching experience before moving to Slovenia?
– I was born and raised in Riga, but my parents were from Leningrad (Saint Petersburg, the Russian Federation). I graduated in Moscow right before the collapse of the Soviet Union. Shortly after that, I left for the United States, where I completed a postgraduate training program and defended my PhD thesis at the University of Connecticut with a degree in Linguistics. After receiving a PhD degree, I was engaged in research work in Germany for seven years. I held lectures and seminars in Linguistics at the University of Potsdam and the University of Konstanz.
– How has it happened that you are in Slovenia now?
– I have never considered Slovenia as a potential place for work and career. However, in 2008, I learned that the newly formed then University of Nova Gorica announced a tender for a vacant teaching position in Linguistics at the Faculty of Humanities and a senior researcher in the accompanying research group, which is now the Centre for Cognitive Linguistics. I found it interesting to become a part of a new modern educational and research structure that was being formed right before my very eyes, to take part in its development, to bring my own experience and vision into this institution. I saw this as a new challenge – a challenge for myself. I applied for the tender and by its results, I was invited to work in this university. Since then, I have been working here for more than ten years.
– Have you ever developed your own original study programmes during this time?
– Yes, in 2010, my colleagues and I created and accredited a postgraduate study programme in Linguistics, which has now changed its name to Cognitive Linguistics.
– Please tell us in more detail about the centre and its activity.
– The Centre for Cognitive Linguistics in its current form has been operating since 2014. It concentrates the research activities in theoretical and experimental linguistics and psycholinguistics. Our focus is on language as a function of human brain activity. We want to understand how a child learns the mother tongue in all its multidimensional complexity at an early age, which means "to know the language" in terms of a particular state of the adult brain, and how various brain resources (for example, RAM) are involved in normal or daily use of language. These fundamental questions are now at the forefront of modern linguistics. Literally, before our very eyes, it is transforming from a traditional humanitarian discipline into a new interdisciplinary area with a strong natural science component.
– How wide is the centre's scope of activities?
– The permanent employees of the centre are graduates of leading universities in the USA and Canada, internationally recognised experts with a large number of publications in international journals. We have a wealth of experience from successful collaborations with many research centres in Europe and North America. For example, we have just completed a successful large-scale bilingualism project funded by the European Commission and covering 17 European universities. The centre's employees regularly participate in basic projects funded by the Slovenian Research Agency (ARRS), as well as within the framework of the Theoretical and Experimental Linguistics research programme funded by the ARRS. The centre has its own laboratory, which is designed for linguistic experiments and instrumental analysis of reactions to linguistic stimuli. Among other things, it is equipped with a device for recording eye movements (eye tracker) of the newest generation. In the near future, we also plan to acquire a specialised electroencephalograph for recording brain signals during the processing of linguistic information.
– How is the work of this centre related to the academic process at the university?
– The specifics of our work are the closest working contacts with our students and their involvement in research activities at the earliest stages of the study. Students are actively involved in projects under the guidance of the centre's employees. They gain valuable experience both in independent research work and in research teams, for example in experimental work with native speakers. Our students also actively participate in national and international conferences where they present their studies, the European exchange programmes with other universities, as well as in the framework of bilateral cooperation with partner research centres.
Since we, as employees of the centre, are also teachers at the Faculty of Humanities, our teaching activities are naturally related to our research work. We try to introduce the latest achievements in our field of knowledge directly into the educational material. I would like to note that our Bachelor's and Master's degree programmes in Slovene Linguistics and History of Culture represent the Slovenian language from a broader perspective of modern linguistics and language structure. More specifically, the Slovenian language is presented in the context of the universal ability of people to assimilate and use language as a system of algorithmic rules that generate statements – as generative grammar. Those who decide to devote themselves to a detailed study of the cognitive aspects of the language as a whole are welcomed to the postgraduate programme.
– To continue the topic of university life – what are the key features of the academic process in Slovenia in general and at the University of Nova Gorica in particular?
– The university studies in Slovenia follow the so-called Bologna model, which uses unified criteria for assessing students' knowledge and thus facilitates the mutual recognition of a specific level of education between institutions and countries participating in the Bologna process. Therefore, in general, the arrangement of university studies in Slovenia is not too different from other European countries.
As for the University of Nova Gorica, this is the youngest (accredited in 2006) of the four major Slovenian universities, and it stands apart from the rest to a certain extent. Firstly, it is the first non-state university in Slovenia with state accreditation for the whole cycle of tertiary education (Bachelor's, Master's, and PhD degrees). This status allows us to efficiently organize and optimize the learning process, integrate various learning and interaction models, and generally respond flexibly to the demands and requirements of modern society. Secondly, we are the smallest university, and we deliberately do not strive to grow in size, because it gives us a number of advantages in terms of the quality of education – we have the opportunity to teach in small groups. Thirdly, we position ourselves as a research university, where teaching and research are closely intertwined and mutually enrich each other, while students are actively involved in research activities – as I have already said, right in the early stages of their studies. Fourthly, one of the priorities of the university is the establishment and support of close relationships with industrial and business organizations, the close transfer of knowledge between academic and business space, which also increases the employment opportunities of graduates.
– What atmosphere prevails in the classroom, how do students and teachers interact with each other?
– Our university is rightly proud of the low student to teacher ratio. Teaching, I repeat, is conducted mainly in small groups, which allows the teacher to be as close as possible to students and vice versa. Teaching, in this case, is conducted more individually. It is more adapted to the needs of specific students. The teacher is more sensitive to how students learn the material, and students have the opportunity to actively interact with the teacher during the classes. Such a "boutique" teaching model has proven itself from the best side and is also used in some leading European universities, such as Oxford and Cambridge.
– As far as I heard, all the teachers in Slovenian universities are practising specialists. How would you characterize the teaching staff?
– The quality of the university staff qualification is best described by an impressive number of research publications in the world's leading journals. The scientific achievements of our colleagues were recognized in the Report of the European Commission on the Research Potential of European Universities for 2007–2011, which notes that, according to the criteria for the quality of research publications and their impact factor, the University of Nova Gorica is one of the five best European universities – along with Oxford University, University of Cambridge, Lausanne State Polytechnic School (EPFL), and ETH Zürich. Many teachers are graduates of prominent European and American universities, almost all have professional experience abroad, and actively and successfully cooperate in the framework of national and international research projects.
– How well is the infrastructure of the University of Nova Gorica developed, both in terms of studies and living?
– The university administration is located in the Lanthieri Mansion in Vipava, which a historical monument of architecture recently renovated with the help of European structural funds. The university also has educational facilities and laboratories in Nova Gorica (Rožna Dolina) and Ajdovščina. The Academy of Arts is located in Gorica (in the territory of Italia). The research laboratories of the university are equipped with modern devices and apparatuses that allow for research at a high technological and instrumental level. Modern classrooms are fully equipped and adapted for the needs of training. In addition, the university is actively exploring the possibilities of distance learning and has at its disposal the cutting edge means of communication, allowing to carry out training and business interaction without physical presence. Students are offered two modern dormitories in Nova Gorica, specially transformed rooms in the Lanthieri Mansion, as well as a number of other possibilities. Students receive bonuses – food subsidies. In addition, the negotiations are underway to build a new campus for the university, which, among other things, will significantly simplify the logistics associated with moving between student dormitories and educational buildings.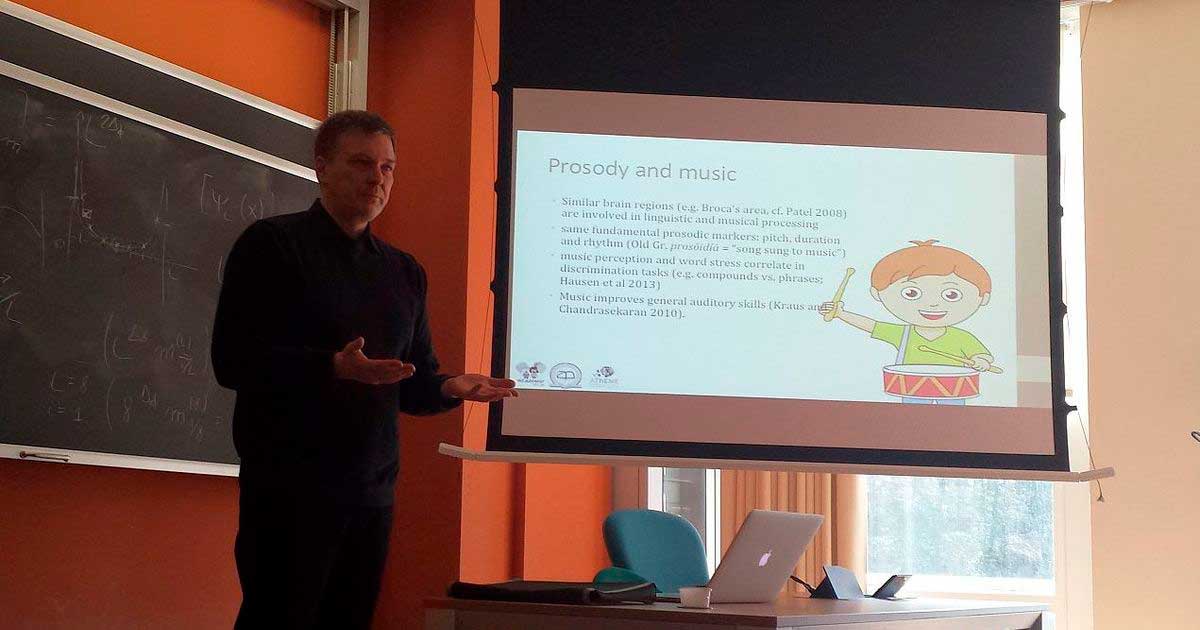 Photo: © Artur Stepanov
– How is the extracurricular life of the university organised?
– One of the most notable regular events in the framework of the university's extracurricular activities is the so-called Cycle of Scientific Evenings – an annual series of lectures by invited eminent scientists from around the world, including Nobel laureates, as well as renowned workers of industry, business and arts for students, graduate students and university staff. Lectures are also open to the general public. Lectures are announced in advance on the university's web page, held in the main hall of the Lanthieri Mansion and cause great interest among the audience. Each lecture is usually followed by an informal communication, during which, by the way, you can always taste the wine made by the university. The university also actively participates in various public events related to science and art. For example, the European Night of Researchers, various exhibitions and fairs, annual open days, joint events with schools, youth centres and so on. Students have their own club for leisure activities and socializing outside the study time. We also teach a number of athletes who perform very well at various national and international competitions.
– Do you keep in touch with your graduates? What is their adult life like?
– The Club of Graduates (Alumni Klub) has been created in our university, which keeps in touch with the graduates of our university and traces their future. On the web page of the club, you can read news about graduates, as well as see clear examples of their career success. The club has also already organised several graduate meetings, which were accepted with great enthusiasm.
– Are there a lot of students from Slavic states, such as Russia, Ukraine, Balkan countries, at the University of Nova Gorica?
– As far as I know, not so many at the moment on an ongoing basis. However, many students come for short periods ranging from one month to half a year or a year under exchange programmes, such as ERASMUS+. In particular, the number of students from the countries of the former Yugoslavia is steadily growing, especially from Serbia, Bosnia and Herzegovina, and North Macedonia. Interestingly, even in the case of short-term programmes, students fast get involved in learning, including the Slovenian language. They never look strangers against the rest.
– Is the level of education that they received at home enough for successful studying here?
– Students with good basic knowledge are able to cope with the university programme. For its part, the university organises introductory training in basic subjects, which improves knowledge on the majority of subjects (for example, Mathematics, Chemistry, Physics) to the required level and eliminates possible gaps. A prerequisite for successful study, of course, remains the knowledge of English or Slovenian languages, which is acquired and polished during the course of studies. By the way, some of our study programmes are instructed entirely in English, including the entire cycle of postgraduate studies.
– Are the cultural and language meetings organised at the community of international students?
– The Student Club always holds various events for all students, including foreigners. The get-acquainted meetings, events for integration into Slovenian culture, interethnic and intercultural evenings with stories, games and national cuisine are organised periodically for foreign students.
– In general, in your opinion, is Slovenia a good option for the educational emigration of young people from the CIS countries (in particular, Russia), as well as from Ukraine and the Balkan countries, and to which extent?
– I think it is a very worthy option. Obtaining a European diploma, in my opinion, is a pretty big advantage. An additional plus is student mobility, the possibility of participating in exchange programmes inside and outside the EU. That is, during the study and after receiving a diploma in Slovenia, a student can receive a scholarship and go on exchange programmes, such as ERASMUS+, CMEPIUS, etc., to other countries.
At the same time, it is extremely easy for foreigners to adapt to Slovenia. The mentality is very similar, language is mastered without much difficulty (especially considering that all the conditions for studying the language are provided), and the culinary preferences are not shocking at all. Needless to say about nature – almost a paradise. According to reviews of students and graduate students, the Slovenes are responsive and always ready to help in the ups and downs of student life. So being lonely and sad will not work here.
– What is your personal impression of Slovenia?
– My impression is the most positive. I am convinced that Slovenia is currently underestimated as a place to live and work. According to my subjective feelings and 25 years of emigration experience, the quality of life in Slovenia is not worse, and in many aspects is even better than in a number of Western Europe countries. Security, the rule of law, strong social support, excellent infrastructure, great ecology, wonderful nature, unhurried pace of life, extremely good geographical location, and, as a result, access to almost the entire of Europe -– all this provides excellent opportunities for harmonious development and self-realisation, parenting and peaceful aging. It is important to bear in mind that Slovenia is a small country and the labour market here is extremely limited. Therefore, in order to successfully fit into the active layers of society, here you need to be clear about what you are going to do.
– How did Slovenia meet you? What caused delight, and what required adaptation?
– Of course, it was difficult at first, without knowledge of the Slovenian language, especially when applying for status with state structures, the initial search for housing, taking your child to a kindergarten, etc. These situations are common everywhere. The first time we communicated only in English. The university helped us a lot, both formally and informally. Representatives of the university, local colleagues accompanied us in state institutions, assisted in correspondence, and introduced us to the regional and local realities.
Of course, I was immediately impressed by wonderful and fabulous nature, mild climate, an amazing combination of mountainous landscapes and the Adriatic coast. The panorama of Lake Bled and the view of Mount Triglav are breathtaking… Of course, safety – Slovenia is the safest country I've ever lived in. The overall "grooming" of the country, its cleanliness and proper maintenance of public areas. The quality of the road surface.
Anyway, I had to adapt myself to the regular heat in summer with temperatures around 38 0C in our region (Primorska), which to me, the northern man, sometimes seems unbearable (thanks to air conditioners!) and the lack of snow in winter. Well, and, perhaps, some emotional restraint of the Slovenes (but along with their undoubted general friendliness and willingness to help).
– Do you travel often? What countries have you discovered during this time?
– Before Slovenia, I had a total of 14 years of emigration experience. It happened so that during this time, I travelled around the world more than I wanted (I am of a domestic turn of mind). Slovenia, with its pastoral views, on the one hand, is conducive to home comfort, and on the other hand, because of its extremely successful geographical position in the centre of Europe, it is simply impossible not to travel here. Therefore, we regularly travel with our families to the neighbouring countries (Italy, Austria, Hungary, and Croatia), as well as to France, Germany, and Bulgaria. I prefer travelling by car.
– In the course of our conversation, we talked in detail about many issues. What would you like to add personally about Slovenia, about the university, about students?
– I think that the University of Nova Gorica is a worthy alternative to the larger Slovenian universities. Virtually each our study programme has its own "flavour", that is, some unique aspects that are not taught anywhere else in Slovenia, despite the fact that the official names of programmes may coincide. Some of our study programmes, such as Karstology, Digital Humanities, or Winemaking, are generally the only programmes of this kind in Slovenia. Our profile attracts students who are interested in an individual approach to learning, a desire to be at the forefront of science and the ability to apply this knowledge in a wide range of academic and non-academic fields of activity.
Therefore, Slovenia is a great place to receive an education – with an ocean of opportunities for dynamic student life, extracurricular activities, and travel. All these advantages ultimately ensure the indispensable success and satisfaction of the results!
– Thank you for an interesting interview!
Questions asked by Olesya Antyushenya