2TM met in its Slovenian office with Danilo Pejović and learned what a student from Montenegro thinks about Slovenia and education in this country. At home, he finished the second year of a Bachelor's degree programme at the Faculty of Electrical Engineering. However, Danilo Pejović decided to continue his studies in Slovenia due to the higher quality of education.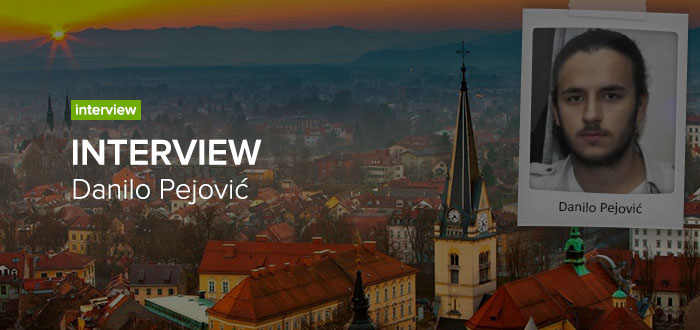 Photo: © 2TM d.o.o.
The transfer from one university to another is a complex procedure, associated with considerable bureaucratic difficulties. The 2TM Company helped Danilo settle all issues related to his move.
– How did you learn about the possibility of free education in Slovenia?
– A couple of years ago, I considered various options for prospective opportunities of continuing my education. Slovenia was one of them. Then I also learned that a bilateral agreement had been signed between Slovenia and Montenegro, which involved free education in Slovenia for Montenegrin students.
– Why did you decide to move to Slovenia?
– The higher education in Slovenia is of better quality. Here is also a wider range of study programmes than in Montenegro.
– How did you hear about 2TM?
– I accidentally found it on Google. One of the links led to the 2TM website, so I decided to contact you.
– How did 2TM help you?
– Moving to another country is a fateful step full of uncertainty. It is very important to have someone with experience in this, especially in my case (transfer from one university to another).
– What do you like most about Slovenian education?
– There is a lot of practical work as well as a smaller number of exams than we have in Montenegro. However, it is worth saying that exams in Slovenia are more difficult.
– Do you like student life?
– My choice of faculty was not based on the charms of student life. Now my life is such that I have to get up early.
– Have you already used student benefits?
– Yes, I have. I use student bons (privileges), a card for using city transport, and I also attend a reading room in the Faculty's library.
– Do you communicate with someone here?
– I can say that I was lucky. I quickly got acquainted with interesting people. They helped me in adapting to life in Slovenia.
– How did you learn the Slovenian language?
– Since I come from the former Yugoslav Republic, I understand the Slovenian language sufficiently well. My level of language is enough to understand teachers. However, for the present I do not speak it well enough.
– How do the local residents differ from Montenegrins?
– In addition to the fact that people in Ljubljana look more disciplined and have a higher ecological culture, I did not find any significant differences.
– Do you already have a favourite place in Ljubljana?
– The area of the Ljubljanica River is especially beautiful and cosy. However, in general I like the whole city.
– Which part of the Littoral Region is better — in Slovenia or Montenegro?
– I have not yet visited the Slovenian part of the Littoral Region, so I will refrain from commenting.
Thank you for your answers!