We continue to publish tips on how to successfully pass a job interview hoping that this will help young applicants receive the desired job. We have previously told how to foresee everything at the preparation stage. Now we will give you recommendations on how to leave a positive impression on your future employer during direct communication successfully omitting all sensitive issues.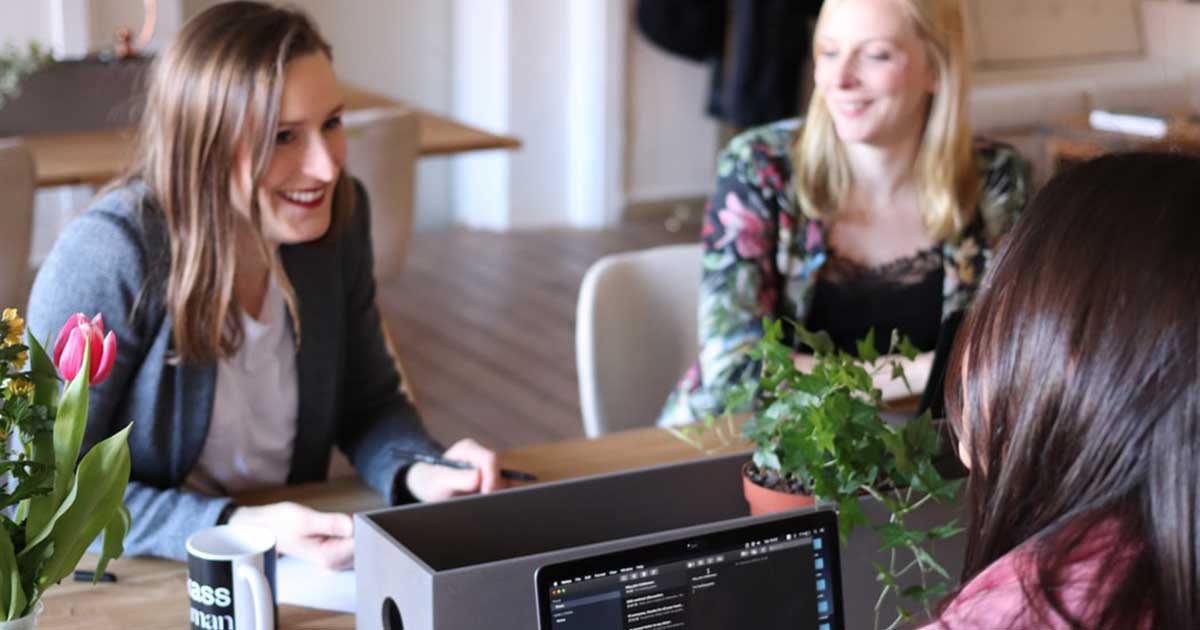 Photo: Unsplash/CoWomen
First Impression
You have only one chance to make the first impression positive and you need to use this possibility to the maximum. Therefore, your manner of walking should be relaxed, and your smile should be sincere. When communicating, look in the eyes, shake hands correctly, watch your gestures, posture and behaviour in general.
Interview
First of all, the HR manager will evaluate your skills, education and work experience, communication skills, your potential and competencies. If the employer is interested in you, they will tell you about the company's working hours, salaries, opportunities for professional growth and additional training. You will also be informed about the time of a follow-up interview or practical arrangements regarding your employment. At the end of the interview, emphasize that you are interested in working in this particular company, thank for the employer's attention and once again shake hands correctly.
Common Interview Questions
Education:
Why have you entered exactly this educational institution? Would you study here again? What are your favourite subjects? What were the topics of your undergraduate and graduate papers? What achievements could you distinguish in your educational and professional activities?
Future Employment:
Why do you want to work with us? Why should we hire you? What do you know about our company? Which candidate would you choose yourself? What is your ideal vacancy? Under what conditions do you work best? How do you carry out the independent routine work or work under supervision? How long are you ready to work at our company? Where do you see yourself in 5- or 10-year time? What are your professional goals? Give an example of a project or work, which you have successfully completed despite obstacles.
Personal Qualities:
Tell us a little about yourself. List your five positive and negative traits.
What has attracted you to our company?
Important: remember that HR managers translate your answers to outwardly innocent questions (your idols, hobbies, TV shows, books, etc.) into your personal qualities. Silly questions like "What would you do if you had a lot of money?" can also be traps. Never lie, no matter how tricky, inconvenient and strange the questions addressed to you might be. Otherwise, you will quickly get confused in your own answers and, alas, fail the interview.
The Questions You Ask
When the HR manager completes his part of the interview, you will get the opportunity to voice questions that interest you. As a rule, employers welcome this practice because it means that you are curious and interested in future work. Master Tamara Guzel advises not to be afraid and directly ask about the issues you are interested in. For example:
What will be my responsibilities? What will be my duties?
Who will be my colleagues? Who will be my boss and subordinates?
What will be the criteria for evaluating my work?
What are my career and additional training opportunities?
What goals (plans) are set in the organization?
What do I need to successfully work in this position?
Who previously worked in this position? Why doesn't he/she work here any longer?
Important: while walking along the corridor, look around and figure out if the working conditions are suitable for you. Pay attention to how relaxed the employees are, whether they are satisfied with their position.
During the Interview
Speak clearly and distinctly, do not give over detailed answers, at the same time do not answer only "yes" and "no". Listen carefully and answer questions sincerely. During the interview, maintain eye contact with the interlocutor. Turn off your mobile phone, do not chew, do not play with your hair, do not touch any foreign objects, and do not speak badly about previous employers.
After the Interview
After each interview, do a specific analysis. What questions were asked? How did you answer them? Which questions were answered well and which ones could be answered better? Remember how the interlocutors reacted to your answers. Evaluate the impression you made. Listen to your gut and draw conclusions. Do you feel comfortable? Did you like your interlocutors and your possible future boss?
If at the end of the interview, you still receive a refusal, try to understand its reason and what lessons you can draw from this interview. Remember: the refusal cannot be evaluated as your personal failure. Think of it as a fait accompli – in this particular case, another candidate turned out to be more suitable for this position.
If in the battle for the position, you outperformed all competing candidates and you were hired, remain on edge! Since the first impression is the most important, try not to be late for work and not to solve personal issues during the working day either within the office or outside. It is also important how you build relationships with colleagues. You must respect all employees, regardless of whether it is a director or a watchman.
We wish you good luck!
Source: mestomladih.si