Today, our interlocutor is a first-year student of a private high school in Ljubljana, Nikita Sharov. Two years ago, Nikita moved from Kaliningrad to Slovenia to receive higher education. He told the 2TM journalist about a difficult path he had made to study and obtain a work of his dreams. He explains how he manages to successfully combine education and employment with benefits for his future career.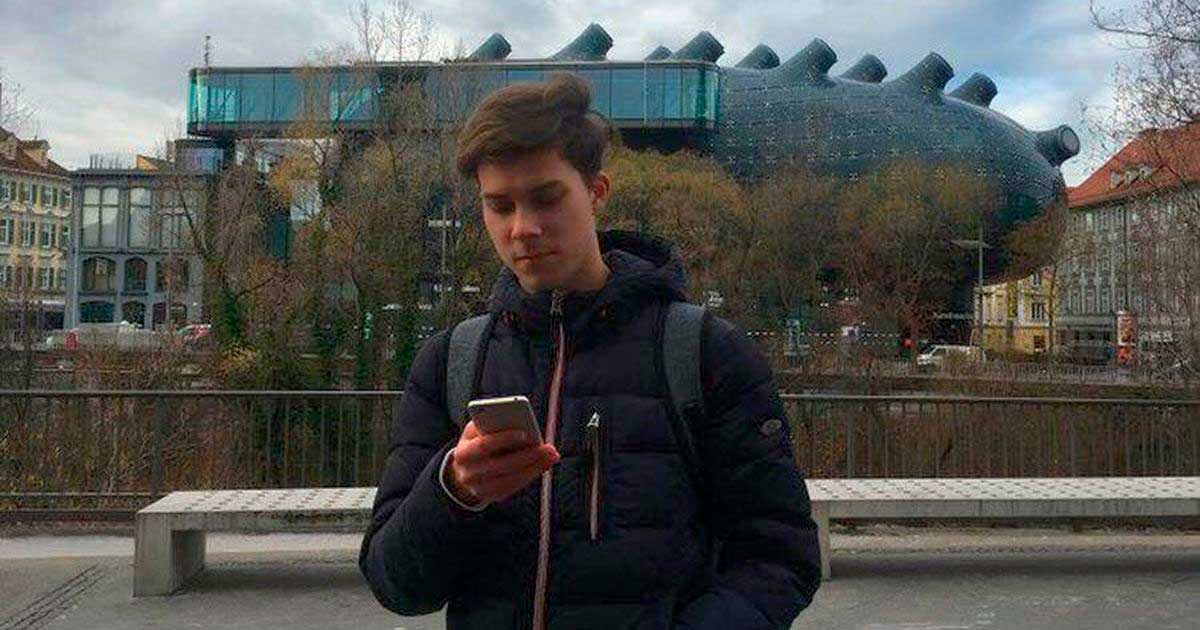 Photo: © Nikita Sharov
– Nikita, hello! How and why did you come to Slovenia?
– Hello! While still living in Russia, I began to think about options for work and study abroad. My choice fell on Slovenia. The country attracted me with its unusually beautiful and diverse nature. Besides, the reason for moving here was the fact that this country seemed easy for me in terms of adaptation. On the Internet, I found the 2ТМ Company, which helps with admission to universities in Slovenia. Later the company experts offered me the language courses.
– Tell us more about your studies at Slovenian language courses.
– The courses did not last long, about 2 months. But even in such a short time, you can easily master the basics of the language, begin to understand speech and speak Slovenian yourself. Besides, an excellent incentive was the understanding that this language is similar to my native language – Russian. However, of course, so far I cannot boast of an ideal knowledge of the Slovenian language. This skill needs to be continuously honed, which I do constantly.
– In your opinion, is the intensive language course enough to prepare a student for studies with the instruction in Slovenian?
– I believe that everything is individual and depends on the person himself. If you like it here and you want to stay, then you will learn the language. I have always had problems with learning languages, they were difficult for me. However, in my first year at the university in Maribor, professors allowed me to pass exams in English, which helped me a lot in mastering the material. By the way, Slovenes have a high level of English. It is a pleasure to talk to them.
– Share your employment experience, please.
– In Slovenia, there are special organizations called student services. With their help, students from all over the country can find a suitable job. Working through this service is convenient because you can see a list of all existing vacancies for the whole of Slovenia in one place. Besides, working through the student service, a student pays tax at a lower rate than an ordinary employee. Companies themselves often hire students because such tactics are beneficial to them. It often happens that after graduation, a student remains working in the company on a permanent basis, which means that the company has no problems with recruitment.
– Did the lack of knowledge of the Slovenian language prevent you from looking for a part-time job?
– At first, I thought it was almost impossible to find a job without the knowledge of Slovenian. But, you know, if you try, you can find anything you want. The choice of vacancies is quite wide here, so every student can find something suitable specifically for him.
– In your opinion, what hourly rate can a student of a Slovenian university really expect, for example, if to talk about your study programme?
– It all depends on your knowledge, as well as on the size of the company. According to my estimates, on average, an IT-profile student can expect a salary of 7 to 20 euros per hour.
– What do you do here and is this your first job?
– I'm interested in programming, so I was looking for jobs only in this field. At first, I got a job as a developer at a small company in Maribor but it was not very interesting. I already had experience in this field, so I could objectively assess the situation. As soon as I understood that the situation had to be changed, I began to participate in various competitions and internships organised by large companies. Thus, I tried to attract the attention of potential employers. And they saw me! After an internship in a large English company, I received an invitation to work in their Ljubljana office. Due to the new job, I moved to the capital of Slovenia and changed my educational institution.
– How difficult was the process of transferring from one university to another?
– In fact, it was not difficult. I took the documents from the university in Maribor and submitted them personally to a private high school in Ljubljana for the Informatics study programme. I couldn't continue my studies, that is, I couldn't start studying in Ljubljana from the second year because the programmes here and in Maribor are different and the subjects I'd previously studied could not be accepted. However, it did not upset me. The decision to move was made, firstly, because of the contract with the company, and secondly, I realized that I needed a study programme where I could work and study, what is called, combining business with pleasure. At the moment, I like the university, and the chosen programme meets my expectations.
– Many students are afraid to start working during the first year of studies. How can you, in your opinion, combine study and work without compromising the quality of both?
– Honestly, I find it difficult to unambiguously answer this question. During my first year under the full-time programme in Maribor, I spent more time working than studying, which, I admit, caused some problems with the latter. However, I think, if you study under a part-time programme, it will be easier for you, since you will be able to easily pass exams according to the schedule and work with pleasure.
– Do you like your current job?
– Yes, at the moment, this company helps me develop as a specialist. Besides, having experience in such a large company will be at least a big advantage in my resume.
– Do you have plans for further work in Slovenia or perhaps you are thinking about finding work in other countries?
– Now everything suits me, so in the future, I want to work in Slovenia.
– At the end of our conversation, I would like to hear your opinion about Slovenia as a country that offers prospects for higher education and self-realisation.
– I think that this country is perfect for realising yourself as a highly qualified specialist. Here you can successfully develop both professional skills and your personality. Slovenia is multifaceted. I believe that, after visiting this country, every person finds something that will make him or her come back here again.
– Thank you for an interesting interview!
Interviewer: Polina Avfukova