– Good afternoon, Olga. Tell us about your first impressions of Slovenia. How did you even know about the country?
The knowledge of the country has come somehow from above. Honestly, two years ago I practically did not know about its existence. Of course, I studied all available at the time sources on the Internet, in the literature. And I definitely liked what I learned. Since I already had a fairly long period of traveling abroad, I had experience in the tourism industry, I had no special illusions and expectations from the European country.
In the autumn, I came to Ljubljana to see everything with my own eyes. I'm glad that I chose this time of the year, when the nature is already fading and, perhaps, not everything seems so beautiful. Honestly, I was frightened by fogs and damp. I wanted a new climate for myself after our stormy weather in Petersburg.
However, Slovenia is so great that you can choose even a climate zone for yourself. If you want, you can live at the sea, if not, then near the mountains. And I found my city, it was Maribor.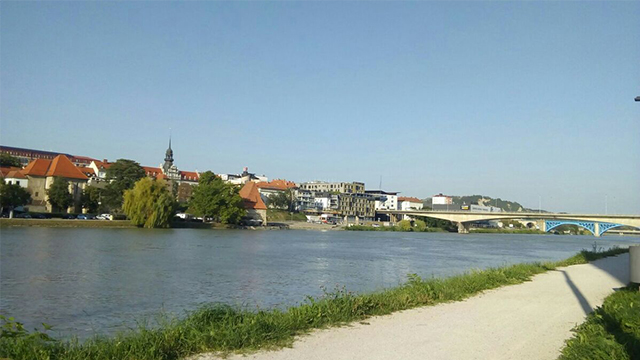 Photo: © Olga Zhelanova
– Did you take a decision to move to a European country spontaneously or were you preparing for the move for a long time?
– The question is complicated. I spent a year for preparation, but it seems to me that I started preparing for this event many, many years ago.
– What kind of people live in Slovenia?
– People, like everywhere else, are different. I do not like clichés about nations. In each country, there are friendly, sympathetic, intelligent and smart people, as well as completely restrained, rude and irresponsible. I found all types here.
– Tell us more about the city you live in. What is pleasant, what is not?
– Maribor is a small town near the Austrian border, so here you can already feel the Austro-German influence on modern buildings and architecture. I do not have a car yet, and I like that everything is very close, you can always be in time to whatever place you need. There is a historical city centre with many cafes, restaurants. There are museums, theatres with a very rich theatrical life. I like the views of the mountains. At first, it frightened me. I'm used to flat terrain and I was afraid of feeling limited space, but it did not happen. A wide river, bridges… It reminds me a bit of Petersburg. Fine air.
From what it is difficult to get used to, this is, of course, the early closure of organizations, banks, state institutions, some shops. You need to finish all your activities before 3–4:00 pm.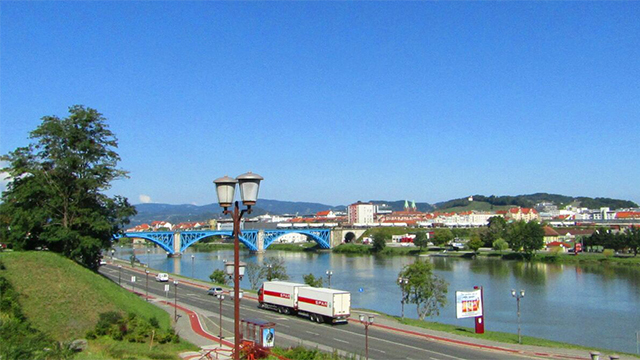 Photo: © Olga Zhelanova
– Please, tell us about your educational institution and the chosen study programme.
– I study at the Higher School for Tourism on the Wellness programme. This course trains managers of wellness centres, organizations related to SPA and fitness industry. In Maribor, this respected educational institution trains qualified personnel to serve the tourism industry. The course is attended by students who graduated from secondary schools and those who are already working in this sphere.
– Do you like Slovenian education? Why?
– I think a lot about this topic. Still, I'm no longer a young student. I graduated from the Pedagogical University. For a long time, my job was associated with the education of children and adults.
What immediately catches your eye is that all students are left to their own devices. Teachers here never run after their students begging them to finish course papers. Students bear the responsibility for the performance of tasks, workshops, they searches for information independently. They only receive the right vector in which to move. It seems to me that such an approach is suitable for well-organized people. Others would prefer the method when a teacher provides spoon-feed material to students. Therefore, it is clear that children, and I am surrounded by 20-year-old students, are perfectly self-organized, have excellent skills in self-presentation, they speak well. That is, they are more focused on co-creation. It is possible that teachers here do not provide so much concrete knowledge in our deep understanding. And, of course, I admire the fluency in foreign languages at a practical level. However, students do not know the theory or grammar. In Russian education, the picture is the opposite: we are good at theory and do not know the practice.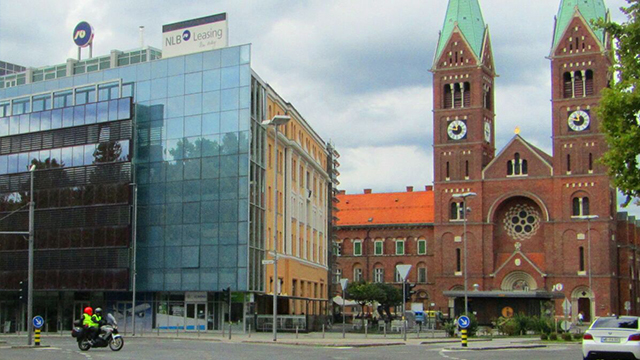 Photo: © Olga Zhelanova
– Is it easy to communicate in Slovenian?
– Communication is easy to me, since for some reason I do not feel the fear of communication, I talk to everyone about everything and it does not matter that I can utter wrong sounds, half-words, naturally wrong endings. The difficulty is that I am surrounded by people who speak dialects. In this case, I sometimes can understand nothing, not a single word. In any case, you should study the language.
– How did you find 2TM and are you glad that you have contacted us? How did the company help you?
– 2TM was also sent to me somewhere from above, when I had studied the issue of moving thoroughly enough and had experience of communication with all major intermediary firms. I went through stages of personal understanding of what I need and what I can, I realized that my path would be through education. It turned out that the 2TM Company had an office in St. Petersburg. It was very convenient.
I want to say that I did not have a feeling that I found assistants and that I could sit with my arms folded. Everything always depends on us personally. I had to urgently prepare some statements and certificates, to influence literally the heads of educational institutions, to obtain the necessary documents. 2ТМ helped to determine the educational institution, because even information on sites is not always complete. All the same, the 2TM managers have long been working with the major educational institutions in Slovenia and know the nuances. It was safe to send my documents through the company. My experience with the 2TM management, with managers in St. Petersburg and Ljubljana is very positive. I want to thank everyone once again. Here, in Maribor, we also were together at our first registration in educational institutions. Everything was accurate and precise.
– Tell us about Slovenian cuisine, do you like it? Do you usually eat out or cook at home?
– We have a sort of mix here. Sometimes I cook traditional dishes, to which we are all accustomed. In the shops, there is everything for this, a good choice of fish and meat. I started to eat more vegetables and fruit. They are very delicious! To be honest, Slovenian national food is not very close to me, so in restaurants, it turns out, I also choose what is closer to me.
– Do you use student bons (bonuses)?
– Yes, of course! They are a true rescue for me. In private, I will say that a student with children has the right to receive bonuses for children as well!
– Was it difficult at first?
– I have already passed a certain age line, when you start to look at life from a philosophical point of view. When an understanding of true values ​​comes. The whole point is how to behave towards what is happening in your life. Therefore, it was not difficult for me. There was no feeling that it was hard!
– Your daughter has also moved with you. Does she share her feelings? Tell us a little about school education in Slovenia. What are the differences with the Russian one, the pros and cons?
– A very interesting feeling, when you and your child find yourself in the same status as a student, you are on the same wave. It gives a common ground. We can share our perception of teachers, joke over curious situations with classmates. Complain each other on "difficulties of translation". For example, I had difficulties with passing the first exam, while my daughter received an excellent mark! As for the Slovenian language, my daughter started understanding it in two months. She first spoke English, and she began to speak Slovenian in four months.
According to the academic process, so far, she is one of the best students. Some subjects seem easy like mathematics and physics. We faced with the problem of different approaches to mathematical calculations. Some elements of the Mendeleyev's table have different. This is a completely different story unknown to us.
– In Slovenia, they like to say 'sport is my religion'. Are you in the picture?
– No, I am not! I somehow gravitate to art, although we adore walking in the nature.
– Thank you!