Today, spouses Inna and Aleksandr Mantulins, students of the Tourism study programme at the High School in Maribor, are our interlocutors. Their decision to move to Slovenia was somewhat spontaneous. However, this family has long thought about leaving Russia. In an interview with a 2TM journalist, Inna and Aleksandr share their experience in moving abroad. The young married couple gives advice on learning the language and also tells about all the advantages of Slovenia that have influenced their choice.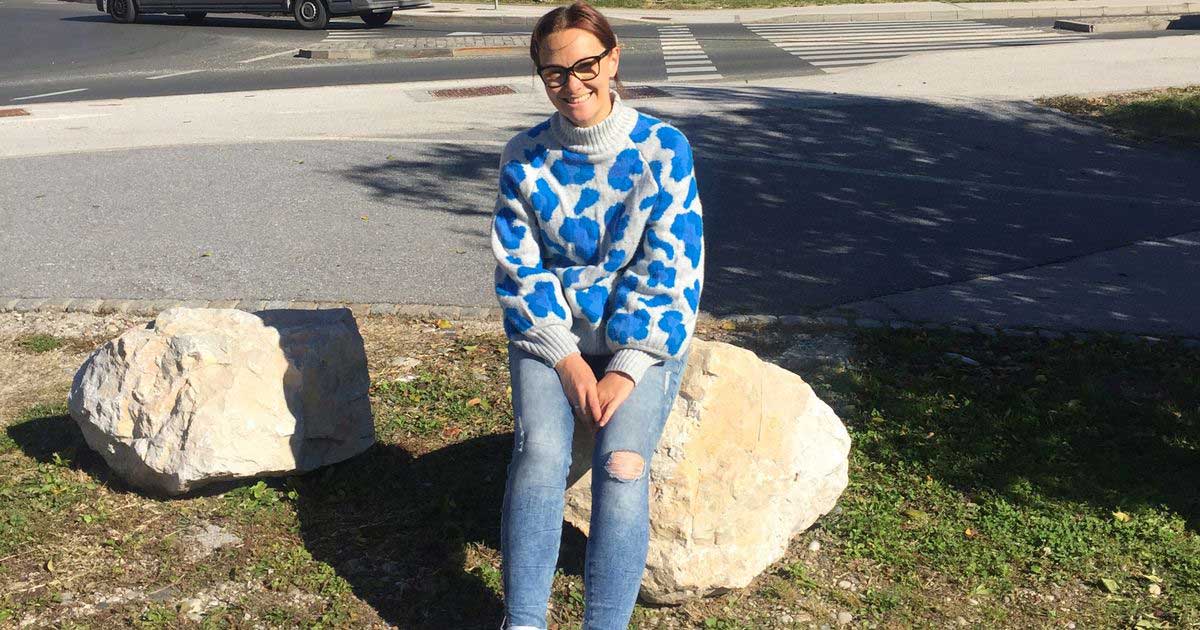 Photo: © Inna Mantulina
– Hello! Why have you decided to move to Slovenia?
– Good afternoon! We have long thought about studying in Europe and relocation. At some point, we realised that the time came. We started doing documents in January 2018. In August, we took our cat and came to Slovenia – already as students.
– What has attracted you in Slovenia?
– Slovenia attracted us by excellent ecology and nature, high quality of life, quality and affordable education. The diploma obtained here is recognised throughout the European Union. In addition, a residence permit, which in Slovenia is provided to all students, is not just an opportunity to stay in the country for the period of studies, but also a possibility to work as well as travel around Europe without a visa. Italy, Austria, Croatia, Hungary – the countries that are most convenient to visit from Slovenia. Slovenian universities have many foreign students including those who come under the Erasmus programme. Therefore, we have a great opportunity to communicate with students from around the world. At the same time, the cost of education is very attractive – here, it is lower than in other European countries. Fantastic nature, which makes it possible to engage in any kind of sport both in winter and in summer. And, of course, a great advantage for us is the similarity between Slovenian and Russian languages.
– Moving at a young age and without assistance, perhaps, is easier than when it is done by two adult self-sufficient persons. How difficult was moving for both of you?
Inna: For me, this process was quite simple and easy. It is because I am an adult and self-sufficient person that the move was easy and stress-free. My husband and I expressly understood where and why we were going.
Aleksandr: One day, Inna said that we were leaving for Slovenia to study an asked me to start doing documents. I agreed and said that I was all for it. Both of us are light on our feet and we have the spirit of adventurism. That is why we were aware of the challenges that lied ahead of us. It seems to me that this was one of the reasons, for which our move did not become a shock. Although we had never been to this country before.
– What criteria did you rely on when choosing a programme and place of study?
– Both of us work in the restaurant business and love to travel very much. Therefore, we decided to choose the Tourism study programme at the Faculty of Commercial and Business Sciences. Gastronomic Tourism is a topic of top interest and prospects for us.
– How was the admission process and how much time did you spend on it? Were there any difficulties?
– My husband and I submitted an application during the second round of admission process, and after 2–3 weeks, we already received a confirmation of enrolment. There were absolutely no difficulties. For that, we need to thank you the 2TM Company, which helped us with the relocation. Everything was done so clearly and professionally that, normally, there could not arise any difficulties at all.
– In your opinion, how difficult is it for a foreign entrant to do without outside help when enrolling in an educational institution? Why did you personally decide to use professional support for admission?
– Since all communication with the university was in the Slovenian language, which we did not know at that time, we immediately decided to use professional assistance. Is it difficult to do without help? Perhaps, it is not. However, if a guaranteed enrolment is required, we believe that you will need the assistance of specialists. This is not the case when you need to take risks.
– Please, tell us more about the Tourism study programme.
– It involves three years of studies, and only in the third year, students choose a profile major in tourism, which they want to master further. Classes are held twice a week in the evenings. All the rest of the time we study on our own using materials and textbooks that are available on the electronic portal. A month is given to study each subject, then we pass an exam. The system, in our opinion, is excellent, as there is time to study the subject and prepare for the exam, without being distracted by other subjects. Subjects range from Accounting and Statistics to the Basics of Tourism. Excellent teachers and excellent teaching materials. We are very pleased with the choice of an educational institution.
– Do adult students have any benefits? If so, tell us more about it.
– Here, the benefits for students do not depend on age. We have meal bonuses. This is when you can eat either for free, or with a small surcharge, which depends on the place where you eat – fast food, cafe, or restaurant. We eat with a minimum surcharge because we do not see much point in going to restaurants. There are also privileges for using urban transport but we do not need them since we are walking around the city. However, when we are going to travel somewhere, then it is very profitable to be a student – you can buy tickets for a bus or a train at a discount.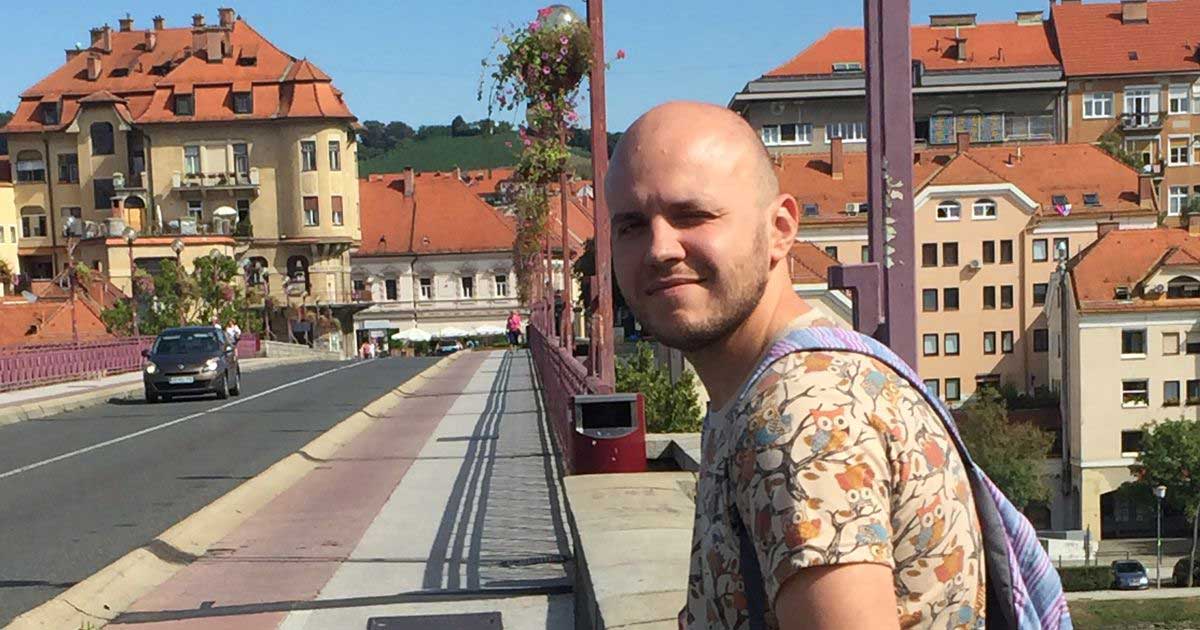 Photo: © Aleksandr Mantulin
– Aleksandr, you already have one university degree. How do you think, does the Slovenian education system differ from your native one?
Aleksandr: I received my first education in Ukraine with a degree in Marketing. It was a long time ago. I can say for sure that the system is completely different. If in Ukraine you spend a whole day at the university, then in Slovenia, the emphasis is on self-study. Here you do not have a huge amount of information, from which you need to choose the most necessary aspects. And, of course, the learning process in our university is built in such a way that the subjects are studied sequentially, separately, without overlapping each other. I think this contributes to a better perception of the material. In addition, the educational institution provides students with all the materials necessary for successful study and exams.
– What is the language of instruction and did you need knowledge of Slovenian?
– We use Slovenian language to study, but the greatest advantage was that during the enrolment, we were not required to provide any certificates confirming the level of language.
– In that case, how did you learn it?
Inna: Before starting our studies, my husband and I took an intensive one-month course in Maribor at the Doba language centre. We studied the basics of the language and began to understand the everyday speech in shops, pharmacies, basic communication with teachers. The process seemed rather complicated at first, but then, after being involved, we progressed more easily. I could not say that we had some difficulties. Everything went on as usual.
Aleksandr: For me, this process was even easier. All this is due to the fact that Slovenian is very close to the Ukrainian language – similar words, accents. But even now, I certainly face difficulties because I still do not speak 100% of the language. The main thing is not to be afraid and not to be shy, but to talk, talk and talk! We started learning the language in August, and now we understand 70–80% of what the Slovenians say to us. We also try to start a conversation whenever possible, but we still have to work on our speech. All Slovenes, with whom we communicate, say that for people who have lived here for only six months, our level of Slovenian is very good.
– How do you think, which way of learning the language is the best – courses, communication, independent work?
– First, you need to take the courses. We think this is a necessary stage in language learning. It gives you the basic knowledge, a general understanding of the language, spelling and rules are being studied. Then you must develop your own language skills. For example, we watch TV, we read educational materials in Slovenian. Of course, communication in the language environment is an integral part of the process. This is the only way you can fully master the language.
– How do you think, is it worth learning any other languages besides Slovenian when living in Slovenia?
– We think yes – this is an additional advantage. Here, almost everyone speaks English. Many people know German and Italian since Slovenia has a common border with these countries. From the second year of studies, we will also learn these languages.
– Let's return to the topic of your move to a new country. Tell us about your adaptation to the new place. What was the most difficult for you, and what, on the contrary, did you like more than at home?
Inna: The question is both complicated and interesting. For us, for example, the most difficult was to get used to the quiet and unhurried rhythm of life. When you do not need to hurry anywhere, not afraid of being late for a bus or train. Get used to drinking tap water. Get used to the friendliness and sociability of people. Get used to that almost all people smile here. At the same time, food products are of excellent quality, the cleanest air and beautiful panoramas of the city, various festivals and exhibitions are all that we like and enjoy now.
Aleksandr: For me, the most difficult was the period of leaving my zone of comfort. However, after a short time, I realised how sociable and friendly people are here, what a wonderful climate and safety this country can offer. As soon as I understood this, all my worries disappeared.
– What makes you like Maribor?
– Everything! Especially its size. The city is really small and compact. It has 100,000 residents and absolutely calm, measured life. Many people use bicycles instead of public transport or just walk everywhere. Nature is beautiful here – mountains, rivers and lakes, much sun and little rain. You need one hour to reach Austria and Croatia and three hours to come to Italy.
– Are you interested in side work when studying? Tell us about your experience in this matter.
– Of course, we knew from the very beginning that in addition to studying, we would need to find a job. We found jobs through the Student Service. We work from 6 in the morning to 2 in the afternoon, which is optimal for us as there is time to study and to rest. In general, you can find any job here, it all depends on your knowledge and desire. Students receive a fairly good salary. For example, we have enough of our salary to pay for renting an apartment, household expenses, and even have something that falls into the piggy bank. Now we are working at the production of packaging, where we pack hair dye and various cosmetics. As a rule, these are products of Schwarzkopf and Henkel. Of course, this work has nothing to do with our study programme, but at this stage, it is an excellent chance for us to improve our language skills because we spend every day in the company of Slovenian employees. We are also pleased with a good salary and a convenient schedule.
– Do you have a lot of free time? How do you spend it?
– We have a little free time. However, when it happens, we either travel to the neighbouring countries or meet with our Russian-speaking friends, with whom we studied at the language courses.
– Do you miss your homeland? Unless it is a too personal question, tell us where do you feel at home?
– We miss our relatives and friends, but not the country. We cannot say for now that Slovenia is our home, but we feel definitely better here than in Russia.
– What prospects do you have with your study programme? Where do you plan to work in the future?
– We think the development of tourism in Slovenia is a very interesting and promising topic. Closer to the third year of studies, we will determine the direction in which we will subsequently work as professionals. Of course, we plan to find a job here in Slovenia. But as they say, we will see. Vse bo!
Thank you for the interview!
Interviewer: Polina Avfukova